Best places to photograph in San Antonio
Best places in San Antonio to take pictures. San Antonio is full of beautiful buildings and historic sites, but it's also a city known for its diversity. You'll find everything from missions to zoos and museums in this Texas town. Here are some of our favorite places to take pictures:
The Japanese Tea Gardens
Located at the Japanese Tea Garden, The Japanese Tea Gardens are a great place to take pictures. Not only do they have a variety of beautiful plants and flowers, but they also feature unique architecture that makes for excellent photos.
The garden is open every day except Christmas and Thanksgiving Day. In addition to being beautiful, it can also be quite crowded on weekends during spring break and summer months so try going during the week if possible!
If you love taking photos in spring/summer/fall weather then this is definitely worth checking out!
San Fernando Cathedral
You'll find that the San Fernando Cathedral is a great place to take photos in the day or at night. It was built between 1738 and 1750, making it the oldest church in San Antonio. It has undergone many changes over time but still retains its original beauty, with a mix of Baroque and Rococo styles throughout. In fact, it contains some of Texas' most elaborate mural work—all done by local artists.
The cathedral has an impressive interior with beautiful stained glass windows and intricate cornices on its ceiling. The main altar has large paintings depicting scenes from Christ's life by artist Juan Nepomuceno Cortinas (who also did murals for other churches in Texas). You can also find statues of saints throughout the cathedral—and if you look closely enough at each one (and read their plaques), you'll learn about them all!
Mission Concepción
Mission Concepción is located in South San Antonio, and it's an easy day trip from downtown. The mission was built in 1755, and its construction is credited to Franciscan missionaries who were working to convert local Indians to Christianity. Originally named Concepción de Acuña after the town it was built outside of, the Mission was later renamed Mission San José y San Miguel de Aguayo when that town became known as San Antonio.
Mission Concepción has been restored and preserved by several different organizations over the past few decades, so what you see today is a result of their efforts—not just what existed when settlers started coming through Texas in search of new territory during the 18th century! If you're looking for somewhere else with beautiful architecture and plenty of history (and don't mind traveling slightly farther than downtown), this historic site could be perfect for some photos!
The Buckhorn Saloon and Museum
The Buckhorn Saloon and Museum is a great place to get photos of cowboys, as well as some historical photos. It has a lot of artifacts, which are fun for exploring. This museum is not only for photography enthusiasts but also for history lovers, so it's an excellent place to go if you're looking for something that's both entertaining and educational.
There are many other things to do in San Antonio outside of the Buckhorn Saloon and Museum; however, this attraction makes for one heck of an Instagram post with your friends or family!
Bexar County Courthouse
The Bexar County Courthouse is a beautiful building, with its courthouse green lawn and towering clock tower. But it's not just the architecture that makes this place great for photos. The courthouse displays many historical photos of San Antonio on the walls inside the building, making it a great place to get a sense of how much this city has changed over the years—and how its history has influenced its present-day identity.
San Antonio Zoo
The San Antonio Zoo is one of the most well-known attractions in Texas. It's home to over 1,300 animals from all over the world, including 100 species of mammals, birds and reptiles. The zoo is open every day of the year and includes a petting zoo, an aviary and a train ride! Visit Website: https://sazoo.org/
Brackenridge Park
You don't have to go far from downtown to find a great spot for pictures. Brackenridge Park, located in the heart of San Antonio, offers beautiful scenery and architecture that make it perfect for your Instagram feed. With plenty of picnic tables and grassy areas, you can enjoy the day with family or friends while taking pictures at this historic park. The park has a large lake where you can capture some stunning reflections, as well as an arboretum filled with trees and plants from all over Texas! There are also several other attractions like a zoo, golf course, and botanical gardens within the park itself which means there are endless opportunities for unique photos that tell a story about your visit here!
San Antonio Botanical Garden
The San Antonio Botanical Garden is located in Brackenridge Park, which is also home to the San Antonio Zoo and Japanese Tea Gardens.
The garden has a variety of plants, trees, and flowers.
The garden is free to visit. There are also special events held throughout the year that have an admission fee.
The garden has a butterfly house with thousands of butterflies from around the world, as well as pollinating insects like bees and wasps that help pollinate crops all over the world! Visitors can feed them nectar or watch them do their thing at various stations throughout the structure.
San Antonio River Walk
The River Walk is the most popular tourist attraction in San Antonio with tons of restaurants, shops and historical attractions. The river walk itself is good for taking photos of the city skyline and boats passing by, but it can be very busy with day tourists so it may not be the best place to take photos if you're looking for a more quiet spot.
If you want to take photos that are unique to San Antonio then I would recommend checking out some of these other places:
Mission San Jose – This mission was founded by Father Benavides in 1690 as part of his attempt at converting Native Americans into Catholics. It still stands as one of Texas's oldest buildings!
Alamo Plaza – This plaza has been around since 1718 when Spanish settlers first arrived into Texas from Mexico City (then New Spain).
The Pearl Brewery
The Pearl Brewery is a great place to take pictures. There are lots of cool art installations and other things that make it an interesting place to hang out. It also has lots of shops and restaurants, so it's a good place to spend some time exploring while you're there.
Pearl District
The Pearl District is a neighborhood in the center of San Antonio, Texas, USA. The Pearl District is one of the most historic neighborhoods in San Antonio. It is home to many restaurants and bars as well as art galleries and shops.
Pearl Brewery was founded by Adolphus Busch in 1883 at the same time he started his brewing empire in St Louis Missouri with Anheuser-Busch Brewing Association (Budweiser). So when you visit Pearl Brewery you will be able to see some of its historical buildings including old warehouses used for storage during its heyday which now house restaurants and shops selling everything from clothing to antiques.
Mission Trails
Mission Trails is a great place for families to take pictures. There are many different locations, and there are lots of photo opportunities. The park is free, easy to get to and there are no entrance fees.
There is a lot of wildlife at Mission Trails which means you have a good chance of seeing some deer, rabbits, or even birds while you're shooting photos. It's likely that you'll find all three!
Tower of the Americas
This is not a secret that's easy to find. It's located on top of Hemisfair Plaza, next to the Convention Center. It's 420 feet tall, making it one of the tallest observation towers in Texas! On top of being able to look out over San Antonio and see all its beauty, it also has a revolving restaurant called Top of Texas where you can get food and drinks while enjoying the view. There's also an observation deck at ground level where you can take photos of yourself posing with this amazing landmark in front of you.
The Alamo
The Alamo is a great place for photography. The Alamo was the site of the Battle of the Alamo in 1836. It's one of the most famous sites in Texas and a popular tourist attraction. It has been featured in many movies, including "Lone Survivor" (2013), "Apollo 13″ (1995), "The New World" (2005), and others. There are going to be a lot of people at this location and the best time to get a photograph with minimal people is during the early morning around 2 or 3 am. This will give you the best opportunity to have fewer people walking in front of you as well as get some amazing night shots. There is some light pollution so stars may be difficult, however, you may be able to incorporate a moon shot in it. If you choose to photograph The Alamo during the day I would recommend that you use a tripod and neutral density filter, and take multiple exposures that way as people move you can remove them from the shot. There are people standing in line to watch and photograph The Alamo up front and quickly move to a new location, but it would definitely be a challenging shot.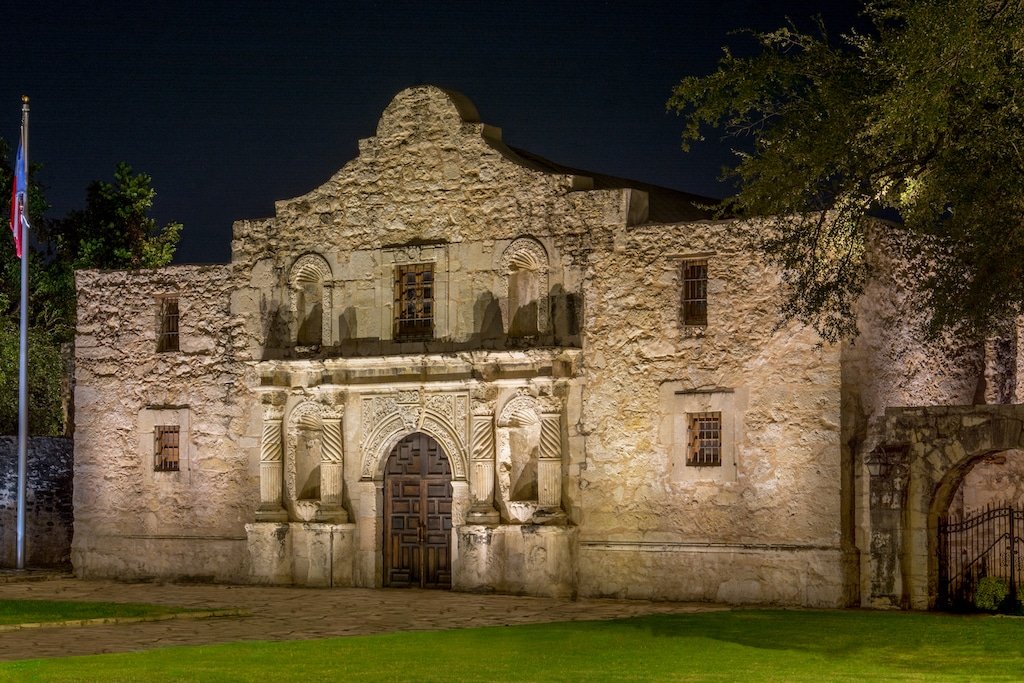 The McNay Art Museum
The McNay Art Museum is located in the heart of downtown San Antonio. This museum is a great place to take photos because it has a beautiful exterior with lush trees and flowers that complement the architecture. It also has beautiful artwork inside and out, as well as an amazing view of the San Antonio skyline.
The McNay is also great for taking photographs of the San Antonio River because it provides interesting angles like people walking on bridges above the water or sections where you can see into adjacent neighborhoods or businesses through its windows (the one shown in this photo includes an orange grove).
Hemisfair Park
Hemisfair Park is a public park in Downtown San Antonio, Texas, on the western edge of the city's central business district. The park was built as part of the 1968 HemisFair, which was held to celebrate the 250th anniversary of the founding of San Antonio.
Designed by landscape architect Roberto Burle Marx and others in 1967–68, Hemisfair features terraces, gardens, fountains, and pathways that connect eight major buildings from around Texas including City Hall. A large globe sculpture by Giuseppe Saracino anchors one end of the plaza while four trunks with branches around them form its center; these represent growth and prosperity through trade.
Blue Star Brewery Arts Complex
The Blue Star Arts Complex is a nonprofit organization that provides opportunities for children and adults to discover and develop their creative talents through the visual arts. The complex includes galleries, studios, classroom space, and services for artists in all disciplines. The largest of these facilities is the Blue Star Contemporary Art Center.
Located at 1414 S Alamo St., San Antonio TX 78204
Retama Park
Retama Park is a horse racing track located in San Antonio.
The park is located at 1515 Lone Star Boulevard and is the home of the Retama Park Thoroughbred Horse Race Track.
At the park, you can enjoy live thoroughbred horse racing, shopping, dining, and gaming. There is also an outdoor concert venue that hosts top artists from across Texas and around the world.
If you want to get pictures featuring beautiful scenery or iconic architecture then this place will give you plenty of options for taking pictures of nature and architecture with your camera or phone!
La Villita Historic Arts Village
La Villita is a historic arts district in San Antonio, Texas. It was established in 1731. It is one of the oldest neighborhoods in San Antonio. The area was once home to the city's early Spanish population, but after being destroyed by floods and fires several times over, it fell into disrepair until it was purchased by businessman James Armstrong Jr., who transformed it into an upscale shopping destination for tourists before selling it off to developers in 1877.
The district contains many unique boutiques, restaurants, and cafes with live music venues as well as art galleries showcasing local artists' work. It also hosts festivals throughout the year including Fiesta Oyster Bake (September), Fiesta Flambeau Parade (April), Cinco De Mayo Festival & Fireworks Show (May), and Art Walk (First Friday).
Tower Park
Tower Park is a public park in Downtown San Antonio, Texas, located on the south bank of the San Antonio River. The park has a number of monuments and sculptures, including a large bronze statue by Robert Summers called "Conversations". The park was named for the Tower Life Building, which was formerly located on the site.
Downtown San Antonio (Main Plaza)
Downtown San Antonio has a lot of history and is definitely one of the most popular places to take pictures in San Antonio. The square was originally established in 1731, making it the oldest public square in the United States. You can find many restaurants and shops around the square, which makes it great for an evening out on the town.
The Main Plaza is surrounded by some beautiful buildings—the Cathedral Basilica of San Fernando, for example—that make for great photo opportunities as well!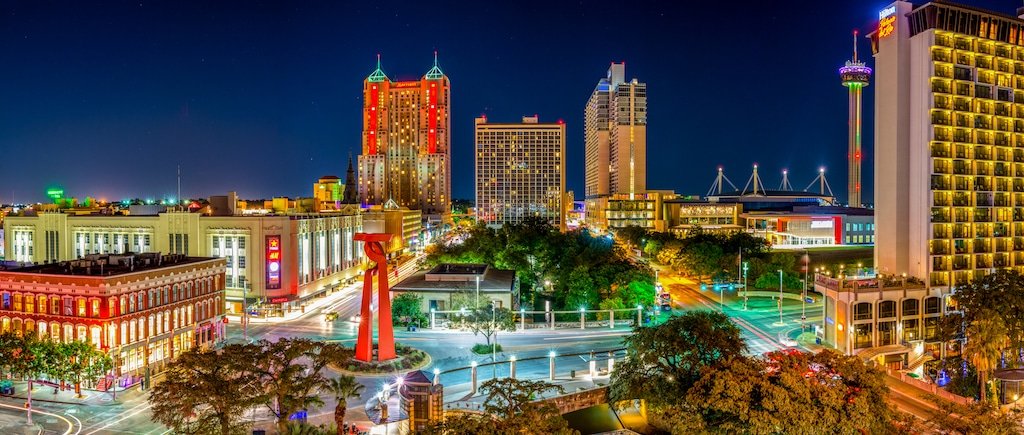 Downtown San Antonio (Main Plaza)
The DoSeum
The DoSeum is an interactive museum of art, science, and history. It's located in the Blue Star Arts Complex and is open daily from 10 am to 5 pm. It's free for children under 12 years old, but admission for adults costs $15. The DoSeum has a cafe and gift shop on site where you can grab lunch before or after your visit!
Landa Library and Gardens
Landa Library and Gardens
A beautiful place to take photos, Landa is perfect for portraits and landscapes. The library was originally built in the 1940s as a family home, with its original owner living there until he died in 2017. However, it has since been taken over by his son who opened it up to the public as a museum.
The gardens are also considered historical landmarks due to them being some of the oldest remaining structures in San Antonio, dating back more than 200 years ago! If you're looking for greenery and lots of shade trees then this might be your best choice for taking pictures
San Antonio Missions National Historical Park
San Antonio Missions National Historical Park has been a UNESCO World Heritage Site since 2015, and it's easy to see why. The park is open 24 hours a day, 7 days a week, making it an excellent destination for photographers who want to capture the best light at different times of day. If you're looking for some of the best hiking trails in San Antonio that are conveniently located close to town, this may be your best bet.
The park itself has four missions: Concepción Mission Church (which was built between 1716 and 1734), San José Mission Basilica (which was built between 1720 and 1756), San Juan Capistrano Mission Church (built from 1731-1756) and La Purísima Concepción Mission Church (constructed between 1756-1758). With so many historical sites within walking distance from each other—all featuring beautiful architecture—it's no wonder why this park is such a popular photo spot!
Majestic Theatre
The Majestic Theatre is a historic building that was built in 1927. It's located on Houston Street and was used as a movie theater until the 1950s when it became a live performance venue. In 1980 it was purchased by the city and restored to its original splendor. Today, it's still a popular place for concerts, plays and weddings.
The Majestic Theatre is one of San Antonio's most beautiful buildings with its classic architecture and ornate interior design. The main lobby features marble columns, marble floors and intricate stained glass windows which depict scenes from Shakespearean plays. This makes it one of the most photogenic spots in San Antonio!
The Witte Museum
The Witte Museum is a museum in San Antonio, Texas, United States. It is located at the intersection of Blanco Road and New Braunfels Avenue in San Antonio's Southtown neighborhood. The museum focuses on natural history, science, and art.
The Witte focuses on art from around the world with an emphasis on Mexican folk art. The museum has an extensive collection of Native American baskets collected by artist Charles Umlauf and African art collected by George and Susan Wilson. Other collections include artifacts from China and Japan as well as Mexican folk art. Visit Website: https://www.wittemuseum.org/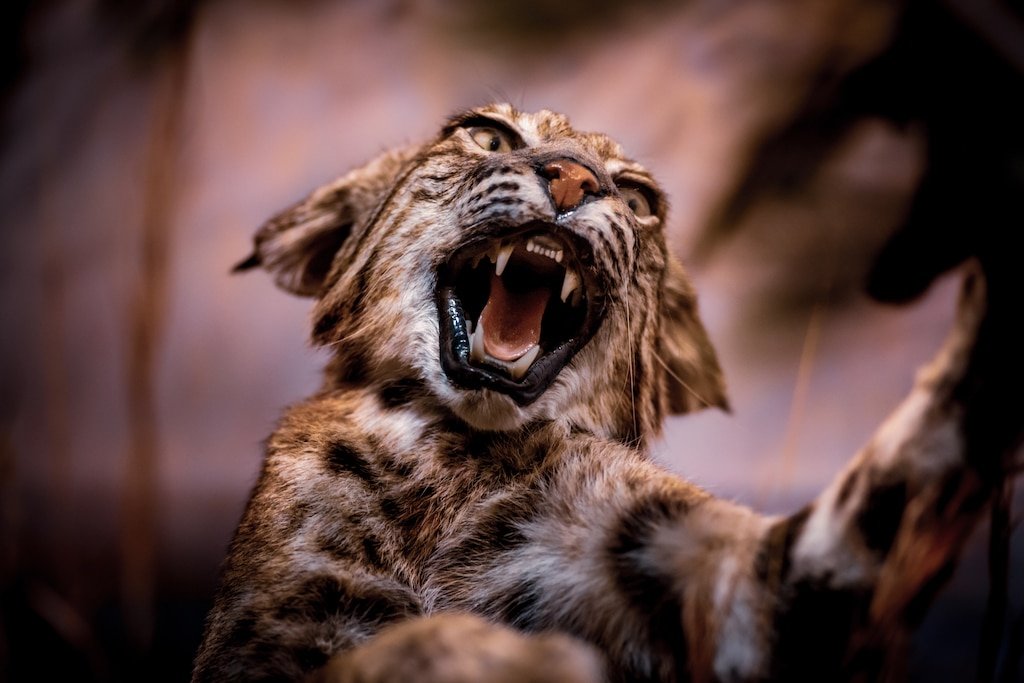 Market Square (El Mercado)
Market Square (El Mercado) is a great place to take photos. With many restaurants and shops, this historic district has plenty of character.
It's also an ideal place to take photos of the city's skyline, with its distinctive Tower of the Americas looming over you.
Tea Room
Tea Room is an excellent choice for anyone who wants to capture a truly unique image of San Antonio. Situated inside the historic Witte Museum, it's a 19th century Victorian house that has been converted into a charming tea room. Tea Room offers high tea service with all the fixings—including scones and sandwiches—as well as an extensive selection of teas from around the world. If you're looking to take some photos inside this historic building with your significant other or family members, be sure to check out their website for hours of operation and dress code information (no jeans or sneakers). You can also expect prices ranging from $10-$12 per person depending on which menu items you choose. The most popular time to visit is during peak visiting hours between 11am-2pm on Saturdays when teens get half off!
You'll notice that there aren't any restrictions against photography in this space except for flash photography (which should really go without saying). It's important not only because it helps preserve historical artifacts but also because taking photos here will give everyone else something interesting about San Antonio besides just another shot at the Alamo or River Walk (though those places are pretty cool too!). For more information about what type of food they serve at Tea Room check out their page here: [website link].
St. Paul Square District
>The St. Paul Square District is located in the heart of downtown San Antonio and is a great place to visit when you're looking to get away from the hustle and bustle of city life. The district has plenty of history, which can be seen in the buildings that surround it.
There are plenty of things to do at this location, including visiting some museums or enjoying a meal at one of its many restaurants. If you'd like to learn more about Texas' history, then don't miss out on stopping by The Alamo!
To get there: The closest bus stop for this location is located on Houston St., just south of North St; however, if you're driving into town we highly recommend parking your car at any one of several parking garages throughout downtown before walking over for dinner or drinks with friends later on during the evening (and trust us—you'll want something cold after spending all day exploring).
San Antonio is beautiful and full of fantastic places to take photos.
San Antonio is a great place to visit if you're into photography. It's full of beautiful, unique architecture and history, which means that there are plenty of interesting places to take pictures. If you want to get some great shots while you're visiting this Texas city, here are some top spots:
The Alamo: This historic site has been around since the early 1800s, and was even the site of an 1836 battle between Texans and Mexican troops. Today it houses several museums dedicated to its history as well as an interactive exhibit where visitors can learn more about how people lived during that time period (and also get their picture taken with a fake cannon).
Market Square Park: Located downtown in San Antonio's River Walk area, this park has lots of things going on inside so if you happen upon it during lunchtime or after work hours it'll be bustling with activity—but even when it's empty there are lots going on outside too! There are trees lining both sides of San Francisco Street which makes them look like they're framing people walking through them; not only does this make for good pictures but it also gives off an airy feeling since there aren't many obstructions blocking out sunlight or views!
Conclusion
San Antonio is a beautiful city, full of fantastic places to take photos. We hope you enjoyed our list! If you want more information about San Antonio, visit our website at https://greybugphotography.com